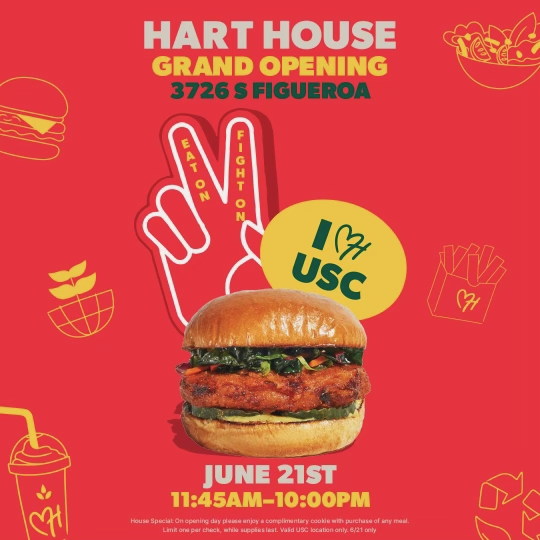 ALLISON VAN TILBORGH / May 11, 2023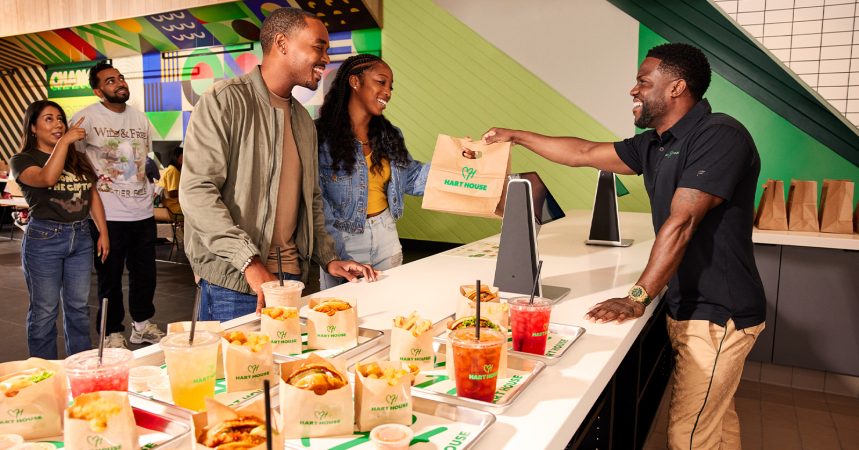 News
Los Angeles
The two new Los Angeles locations are opening soon.
Last weekend, Hollywood was abuzz with excitement as Kevin Hart hosted a VIP sneak peek to celebrate the upcoming opening of the third location of his plant-based, fast-food restaurant, Hart House. The new location will open in Hollywood on May 23 at 6800 Sunset Boulevard.
Kevin Hart Hosts VIP Party to Celebrate New Hart House Location
Kevin Hart's Hart House VIP event was alive with delicious food, tequila cocktails featuring Kevin's Gran Coramino tequila, and entertainment, including mini golf, a live DJ, a human claw game, double Dutch, build-a-buddy plush bears, and more! Many famous faces were in attendance, including Kevin Hart himself, TikTok's favorite food reviewer Keith Lee, film director Tim Story, chef and television star Nyesha Arrington, writer and comedian Fortune Feimster, stand-up comedian Mohammed Amer, TikTok influencer Courtney Parchman, Vice President of Creators and Marketing at Playboy Loren Piretra, and more!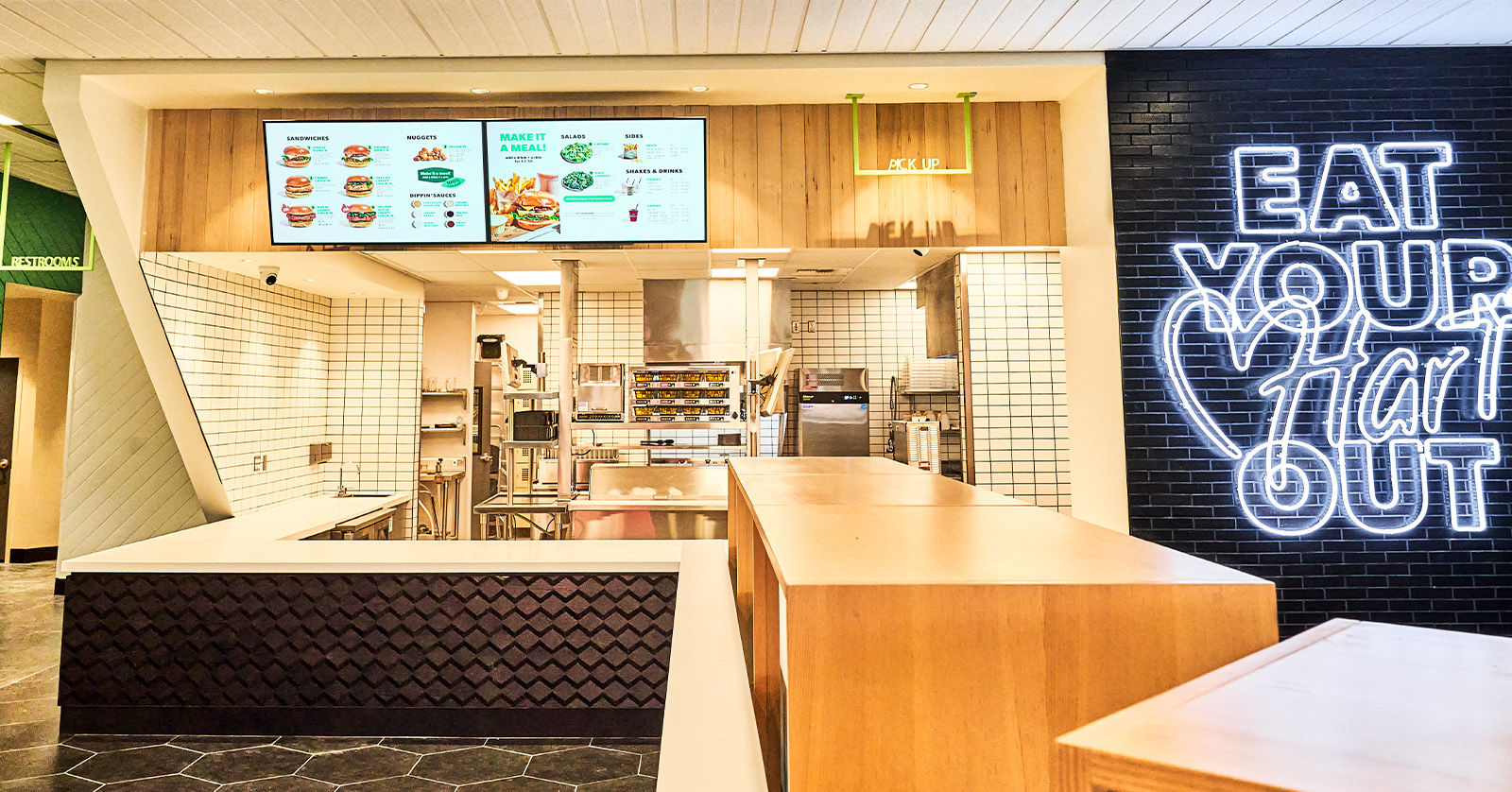 COURTESY OF HART HOUSE
Hart House to Open Two New Los Angeles Locations
The real excitement came from the news of the opening of Hart House's Hollywood location on May 23 at 6800 Sunset Boulevard! Taking over a former McDonald'slot in the heart of Sunset Blvd, the highlight of this location is the brand's first drive-thru, making it even easier for customers to grab their favorite plant-based meals on the go.
More of a dine-in kind of plant-lover? Sunset Boulevards' location will also boast a 2,130 sq ft space with 24 interior seats and 16 outdoor seats with ADA accessibility. The Hollywood location also features landscaping that utilizes a rainwater retention system. The recycled water will be used on the landscaping to save water.
And it gets even better! Hart House is set to open its fourth location near USC (University of Southern California) at 3726 S Figueroa St. This smaller location will have a 1,310 sq ft space with four interior seats and a standing bar, as well as a stretching 2,300 sq ft outdoor seating area with 40 additional patio seats. This will be the first location on a college campus, providing the USC and South Central LA community with access to mouthwatering plant-based food and a large outdoor patio filled with table games like giant Jenga and cornhole, a water feature, and a fire pit for cold nights! The opening date for this location is yet to be announced.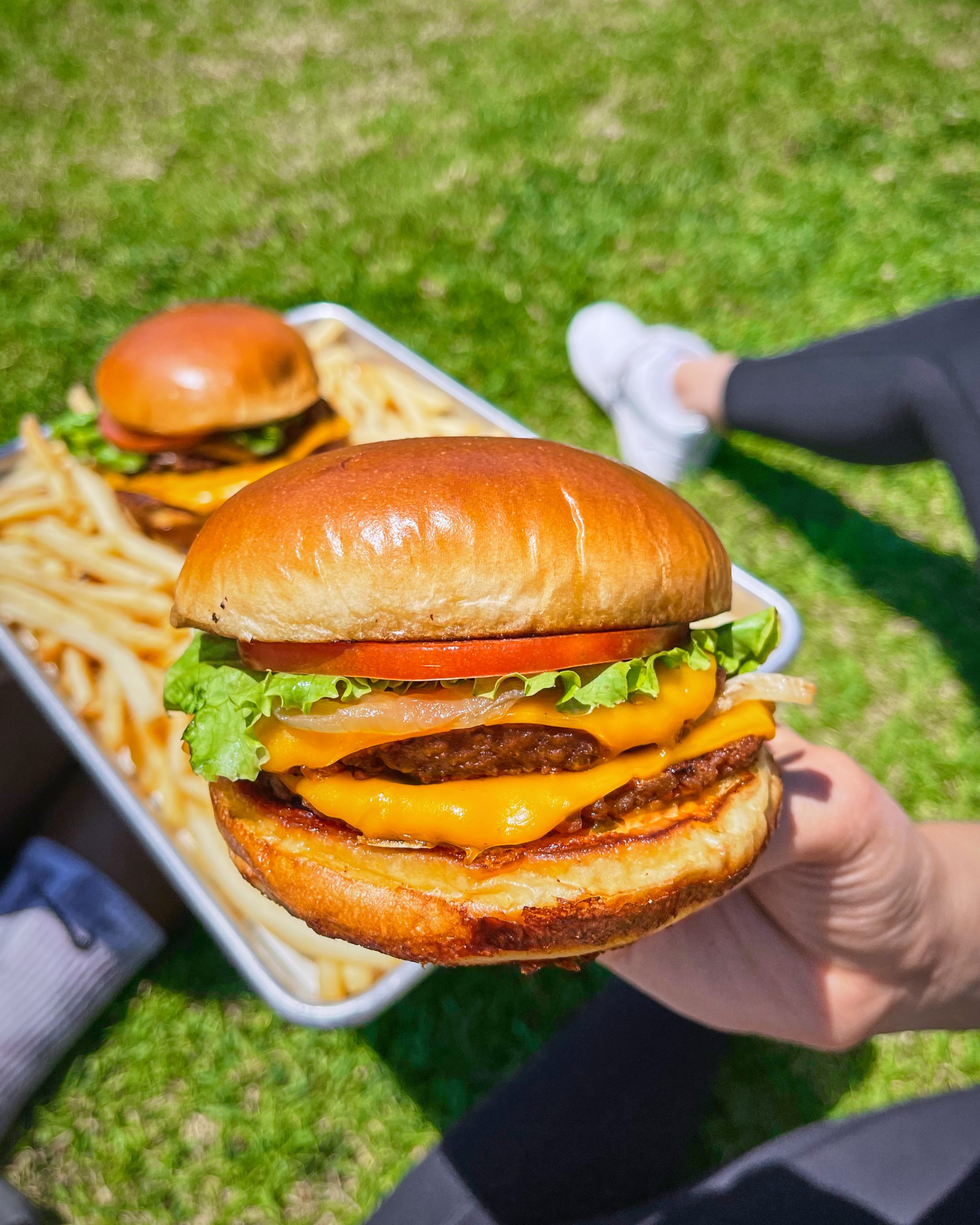 COURTESY OF HART HOUSE
Mark your calendars, plant-based food lovers—the opening of Hart House's Hollywood location is just around the corner! Stay up-to-date at MyHartHouse.com.
Allison is a digital media consultant, writer, and aspiring vegan-feminist scholar living in the Orlando, Florida area. She's the founder of The Sanford Vegan, a vegan media brand, through which she connected with VegOut. As an early reader of VegOut Magazine, she dreamed of one day putting her own writing on the national stage (spoiler alert: that dream came true!). Allison loves experimenting with plant-based cooking and reading up on the latest trends in veganism and animal rights scholarship.MORE ARTICLES BY ALLISON
MORE FROM VEGOUT
Kula Debuts New Gluten-Free Vegan Ice Cream SandwichesALLISON VAN TILBORGH
May 22, 2023 NewsSustainable Vegan Sandals for Summer 2023TAMMIE ORTLIEB
May 20, 2023 Fashion & BeautyThis Week in Vegan News: MANEATINGPLANT Opens Brick & Mortar, Rachael Ray Partners with Vegan Meat Brand, and MoreCAYLA WHITE
May 19, 2023 NewsOatly Rolls Out New Banana Split and Cookie Dough Ice Cream FlavorsALLISON VAN TILBORGH
May 19, 2023 NewsVegan Fine-Dining Restaurant to Open in Fort Worth, Texas Next MonthALLISON VAN TILBORGH
May 19, 2023 NewsWant to Own A Vegan Soft Serve Shop? Yoga-urt Now Offers Franchising!ALLIE MITCHELL
May 18, 2023 SponsoredNews8 AAPI-Owned Ice Cream Shops Nationwide Serving Vegan ScoopsANJA GROMMONS
May 18, 2023 Food & Drink8 Essential Vegan-Friendly Restaurants in Savannah, GeorgiaALLISON VAN TILBORGH
May 17, 2023 Food & DrinkAAPI-Owned Vegan Restaurants, Food Trucks, and Pop-Ups in LAALLIE MITCHELL
May 17, 2023 Food & DrinkLos AngelesNiku Nashi Sushi Now Offers Lunchtime Patio Dining, Delivery, and CateringALLIE MITCHELL
May 17, 2023 SponsoredNewsLos Angeles8 Spots for Vegan Donuts in NYCALLISON SANDERS
May 16, 2023 Food & DrinkNew York9 Store-Bou