Shop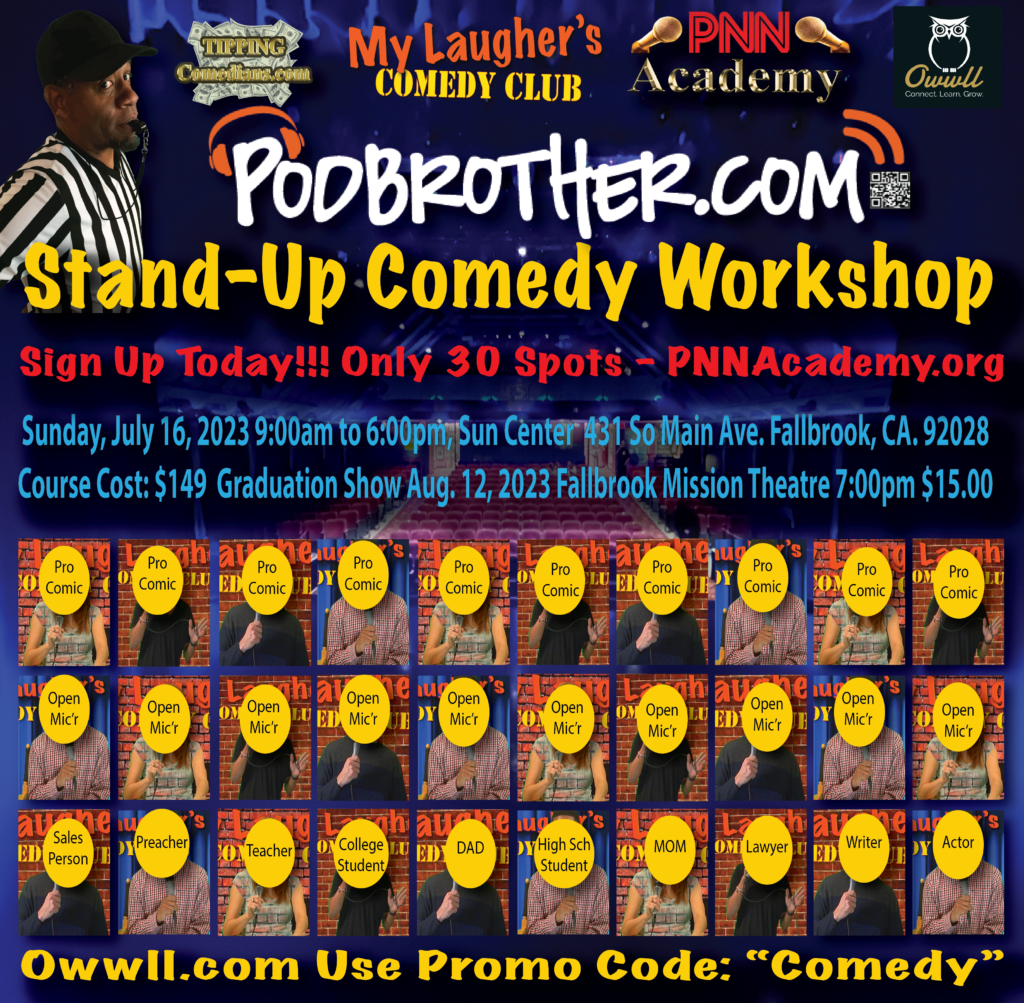 Welcome to PNN Academy, a PodBrother Nation Online tutorial program, you will learn how to write and perform stand up comedy.
* The PNN Academy will run for 8 hours, one day, 2023 9:00AM to 6:00PM PCT. Sunday, July 16, 2023. 2 four-hour sessions with a 1 hour break for lunch. Location: Sun Center located at 131 West Beech Street, Fallbrook, Ca. 92028
The Graduation Show for this workshop is August 12, 2023 at the Fallbrook Mission Theatre 7:30pm Tickets $20 online $25 at the Theatre.
The Stand-Up Comedy program will include:
Session 1 consists of 30 workshops on how to get started.
Workshop #1: What makes people laugh?
Workshop #3: Negative Personality Trait
Workshop #9: Attitude
Workshop #14: Where s the Punchline?
Workshop #30: Hecklers – Bombing an Banter
Session 2 consists of 30 workshops on the inside in and out of creating and performing stand up comedy.
Workshop #31: Evaluating Your Material
Workshop #37: Comedy Industry Vocabulary
Workshop #41: Dealing with Fear
Workshop #46: Who are you?
Workshop #57: Getting it Funny
Session 3 consists of 30 workshops on how to book and market yourself.
Workshop #61: Set Up Your Social Media
Workshop #62: Create Your Podcast Show
Workshop #67: Create Your Industry Database
Workshop #72: Promoting Your Brand
Workshop #90: "Just Be Cool". No One Likes an "A" Hole.
There will be aQ & A.
And a graduation performance of your 3 minutes on the TippngComedians.com Comedy Club. Date and venue to be determined.
The Workshop Rates:
Personal Custom Designed Workshop: $400
Group Rate Workshops: $149 Per Person
One Hour Follow-Up One-On-One Consultation $49 Per Person
Comedians that want to get on TippingComedians.com can do so by following this steps:
#1. Take a one hour One-On-One Meeting with the TippingComedians.com Producers
#2. Take the PNNAcademy Stand-Up Comedy Workshop NOTE: (Professional Comedians Are Guests)
#3. Step up your TippingComedians.com Membership.
#4. Send in your headshot and bio.
#5. Schedule your Graduation Comedy Show.
#6. Set up your TippingComedians.com Merchandise.
#7. Promote your comedy show date.
#8. Promote your TippingComedians.com Link on all of your podcasts and comedy shows.
Showing all 10 results